Alright so thanks for taking the time out to do this interview, can we get a brief rundown of who you are and how long have you been in the game? What crew do you rep and how did you get the name Euphoric?
What up Bombing Science !!! I Write " U4EK ". From Time to time I've spelled it a few different ways: U4EK, Euphoric, Euphoria. Lately, I've been experimenting more with the full word, I've been Painting for about 10 years and have been in a handful of crews WEIGHED DOWN, CAT CULT, JHFCREW, and now SEVENTH LETTER.
1st clip of yours I saw was of your recent trip to Austin, as a Texan, it's cool to see the graffiti spots of Austin get covered! I like how you make mini-documentaries of your time there, it's pretty cool how did you get the idea to use the Instagram format that way? It seems obvious but I actually don't see a lot of graffiti guys doing it the way you do.
TEXAS was Badass!! Electric scooters and Dank ass BBQ ! One of my favorite trips so far. Everything but that Heat! Texans are wild for painting in that Heat! As far as the videos go I guess I'm just getting lucky! Always Making Skateboarding videos as a kid and watching them religiously Has definitely had some influence on the ZOOM and Quick fast clips. Almost all my videos are just clips I've saved from making stories throughout the trip and then just smash them all together.
One of my favorite pieces of yours you called "mushroom bar style", its really unique, make sure to include it in your photos that you send. What was the inspiration behind this style? Do you look at other guys work and then try to create from a reaction of that or is this something that's purely coming from you?
I actually did that piece on a Mushroom Chocolate Bar lol, Hence the name! I ate the whole bar and just went for it! I'm glad I got the sketch down before it really started kicking in. I think everyone gets influenced or a reaction from seeing other people's work I sure do. But this one was definitely just freestyling. Had to remind myself half the time what was even going on!
Your work is a lot of fun, you got lots of different ways to put your art out there for people, with t-shirts and whatnot. What all do you sell to your followers? Do you do custom commission paintings as well?
I'm putting together an online store to open later this year that will have a lot of collaborative pieces I've worked on. Definitely have some T-shirts, Prints, Basketballs, Cassette Tapes, Magazines, Vintage Toys, Stickers ETC. YEAH! I'm down to take on anything that comes my way if anyone wants to reach out and work with me let's get it!

What is your favorite documentary or book that covers the history or major players of graffiti and why?
I feel like I've seen most of the classics. Reading Subway Art or watching Style Wars, finding older VHS clips Deep on the internet. they always Just make me wish I had been born earlier, I always Watch "State your Name", "Infamy", "War 42 " or some early 2000's Youtube Videos to get pumped. I feel like I can identify more with newer videos and things I've read in the last few years. I'm reading this book from TAPS & MOSES at the moment definitely cool to hear stories about Graffiti in other countries.

Are you completely educated just from doing street art or did you go to school for design? Does your day job include your creativity as well or is graffiti the avenue for that only?
Street Educated, learning from friends growing up and just going outside and getting it. Seeing older homies going threw the motions taking us on missions learning the lingo, Racking, Bombing, and trips to LA. The internet was also a major tool once I found out a few things to search it was game over. Definitely fell in love with art and graffiti and it hasn't stopped. A few years back I took a design class for illustrator, got the hang of it quickly, and dropped out. Now it consumes my everyday life as a graphic designer.
With the way you get after it, I assume you do this full-time? What's it like looking back to your past when what you do now daily seemed like a distant dream? Do you think it's easy to take it for granted?
Oh man I wish I could paint every day, I'm a full-time dad now lol I'm grateful to paint a few times a month or when I get a good mural gig, I really try hard to do something new and better than the last time always pushing new styles, its definitely a dream come true didn't think I was gonna be where I'm at today really grateful too be able too to design on the computer for work and just be able to express myself in the way that I do, could easily just be a warehouse worker hating life not doing anything creative.

What kind of advice or lessons have you learned that you wish you had known at the beginning of this journey? In other words, what would you say to someone following this path of graffiti, any advice?
"Freeze" Means RUNNNNN !!! , Naw but definitely don't get caught up in being dumb. Always keep your eyes open! Graffiti isn't for everyone, try and keep a good set of friends around you if you. Love something always fight for it 100%, Dont work at a warehouse stacking boxes if you love ART and Graffiti. Find something that will keep you on the path to your GOALS anything else will hold you back.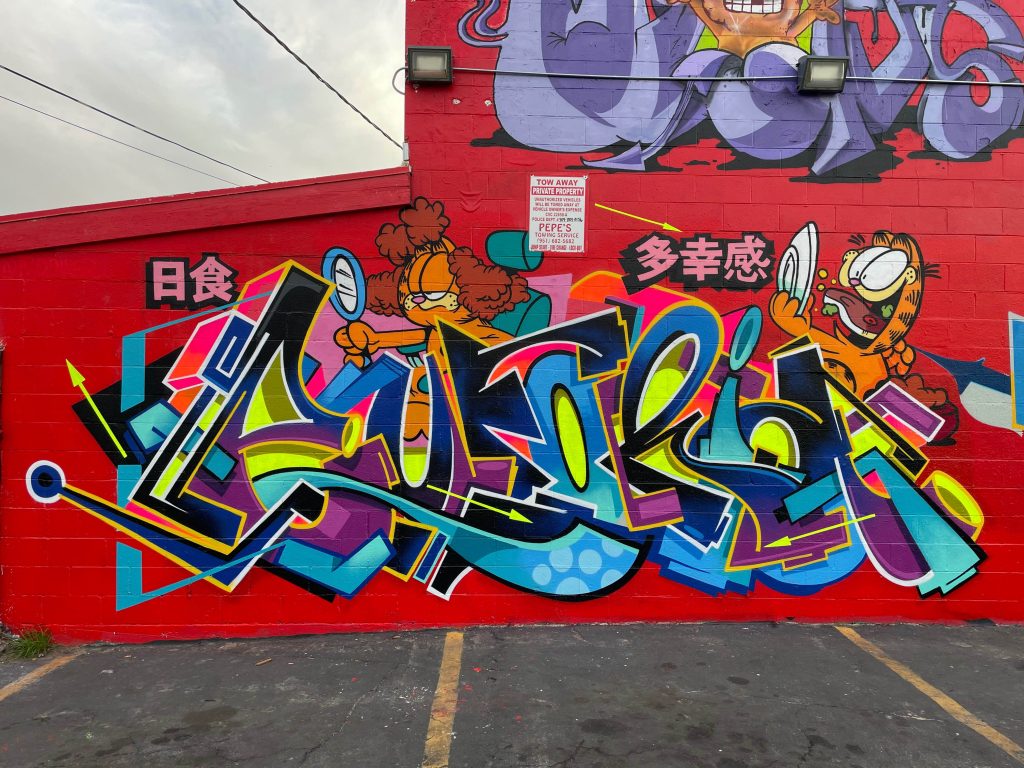 As far as travel goes where all have you been? Any crazy travel stories you can share?
Been traveling a little more the last year or so. Texas, Minnesota, Baltimore, Philly & Florida. I really like going to Art Basel I've been going a few years in a row now. When the whole pandemic thing hit I ended up getting sick on vacation down there. Still trying to paint, I pushed through and went out for the night, but no one was around this year. I don't think there were any events going on, Total Lockdown. Ended up getting arrested doing a streetside roller, the cops were so shook of the virus stuff that they legit didn't want me in the car or even next to them. I had a nasty cough, no mask, and was covered in bucket paint. They didn't even want to touch the buckets or extensions and just let me keep going saying they'll let the next guys get me. Got super lucky I guess. Finished up and got me a Cuban sandwich.

Any shout-outs you would like to give? Where can people follow you and purchase your work?
Shouts Out – Bombing Science, RD Artist supplies, Hotpockets, The Big Homies, Eklips Msk, My MOM, and your MOM. You can catch my new website and online store dropping this Fall but for now, follow me on Instagram @tv.dinner & if you wanna buy anything or collab on something just holler at me!