Alright so thanks for taking the time out to do this interview, can we get a brief run down of who you are and What crew do you rep? How did you get the name fedupone?
First of all want to thank you guys from BOMBINGSCIENCE for reaching out. I go by FEDUP from Los Angeles and I represent KRH, WAI, IGM, and SLUTSCREW these crews are not just crews but my actual brothers! I used to write Disrup603 and there was a OG Dsrup in L.A. so I decided that I needed to change the name out of respect. I searched and tried to think of names but I couldn't figure it out and shouting out load to myself I said "I'm FEDUP I can't think of nothing " and came to me wow I should write FEDUP and that was back in 2004.

You put up a ton of work recently, do you do this as a full time gig or do you have a day job and this is just what you do in your afterhours? How long have you been in the game? It seems like you're still very much involved with the scene, so big props for staying busy.
So graffiti is secondary to my family as a father. They always come first before graffiti. Graffiti is something I grew up with and do it for passion! I also create woodworking art inspired by my graffiti and work as a woodworker. But it all started in 1996 when I first really noticed graffiti from a crew that I currently represent, WAI. We started drawing and catching a couple tags here and there in 1997 .. but the first time I picked up a spray can was in 1999 in East Los Angeles and the rest was history!

One of the things I dig about your work is that you're always experimenting and doing different stuff with your work, For example you've been posting these super cool home decor wood pieces. They are super dope! How did you come up with this, I've never seen anyone else do these before? Do you also do other collectibles like the train cars or canvas originals?
Thank you guys for noticing the woodworking I've been doing. So it all started May of 2020 pandemic started and I was out of work .. and I need to pay rent and support my family. So I was always handy with tools, so I bought a scroll saw and did my first one and sold a couple days later. And then started getting DMs for orders. First month I sold 12 pieces and it just kept going . From start till now I have sold over 130 pieces through out 3 years and has helped me evolve my style and create a stamp of who I am. The graffiti community has been the best always supportive and I am truly grateful! This led to doing other stuff like making canvases and HO scale model trains.
What makes graffiti unique in my opinion is that it's something where people come together to get drunk and paint walls with their friends, do you think this social element of doing graffiti is what keeps you in the game after all these years? Any fun travel or hangout stories to share?
The social aspect of graffiti is what makes it dope. Getting together with crew mates and creating memories is what definitely makes it all worth it! Some experiences with mates and painting missions and the random stuff we get into is priceless. And graffiti has took me to many places and met so many good friends. From Peru to Italy in 2008 to 2019 road tripping through the Midwest and linking up with some of the best in the game. Like Emit Tuke, from DF Jigl, and wasp from, MFK Ultimately, travel with my crews is the best. Just wild adventures.


What is your favorite documentary or book that covers the history or major players of graffiti and why?
So my youngest years was watching a documentary called "graffiti verte 2" Los Angeles based documentary and seeing Skil One from UTI was one that stood out the most to me. Was so amazed by his work and his leadership. Also Style War was one of my favorite would watch on repeat! Haha as for books "Graffiti LA by Steve Grody " is a classic for me . It reflects the city I'm from and I was so intrigued in it and help mold the person I am today .

What kind of advice do you give to people starting out in graffiti who are wanting to take their skills to the next level? What do you think makes people successful in graffiti, what have you seen over the years from top guys that you try to emulate?
The best advice I can give anyone doing graffiti is to do it because you truly have passion for it. Be the best at it put the work and the effort. For me personally I think attention to detail is key. I am more of a "Quality over Quantity " type of guy but to each their own! To be Successful I think it all about consistency with what ever you do and if you apply that to the craft of graffiti I think it will pay off. Perfect example is Geser 3A. To me he's the most consistent writer In the game!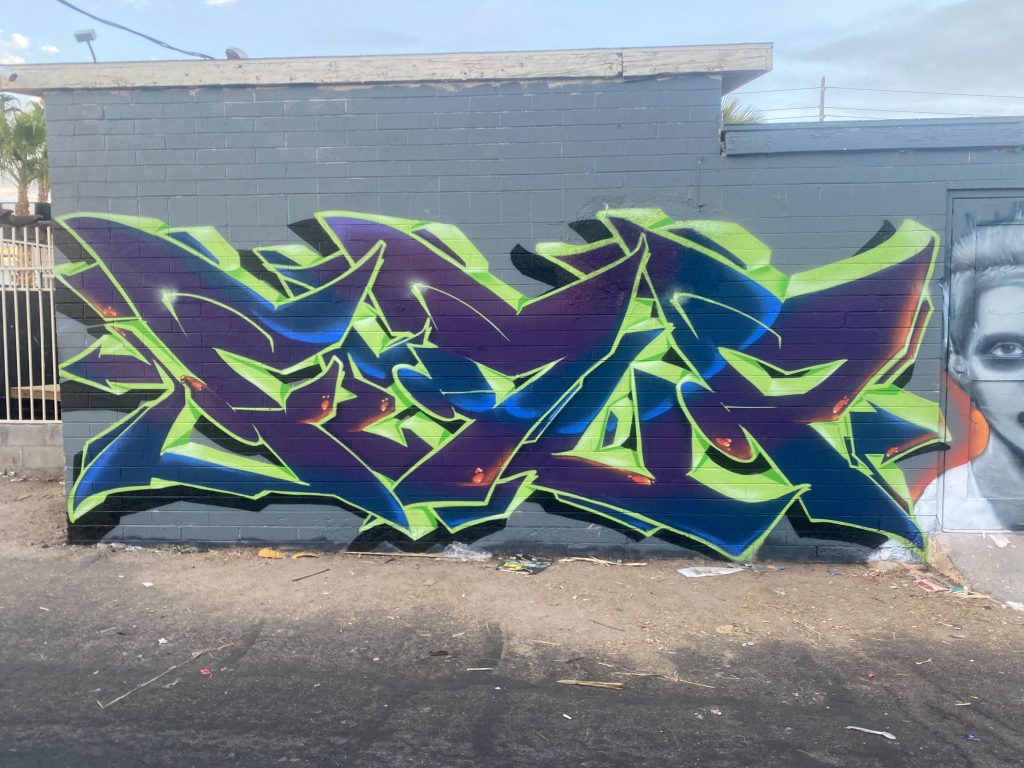 What's your go-to hip hop artist to listen to while you're working? Who would you say is underappreciated in either hip hop or graffiti that deserves more recognition?
Hip hop for me that keeps me creative is late 90s to early 2000s hip hop like -people under the stairs, project blowed, atmosphere, Aesop Rock. And for someone In particular that deserves recognition, that's kinda difficult to name a few but there is definitely a lot of solid writers and rappers that will blow up in the near future if they just stay consistent with what they produce!
Thanks again for taking the time out to chat, Any shout outs you would like to give? Where can people follow you and purchase your work?
Want to give a huge thanks to you guys at Bombing Science for reaching out and having the interest for putting me on an interview! What to give a huge shout out to my crews:
KRH, Herl, Ajae, Mors, Frisk, Lens, Adze, Saute, Dewey, Deity Rakn Futur Ashr Zion Terra RIP Duck
WAI Plek Thanks 2Shae Spe136 Delta Caskt
Strae Seroe Mews Fritz Saeme Gozer RIP Nels
IGMC Lagek Dley Core Dizoe Sigma Oclocks
Roye Fax Gone Hades Shok Dubes Trek
SLUTSCREW Dehse Fuego Swab Owel Sker Rite P82 Orgie Part2 blackLight King Skoler
—-Werth Msk 2much Rem Brock77 Vox …
You can find more work from FEDUP on Instagram.