Alright thanks for taking the time out to do this interview. Can we start with you introducing us to who is Siek27, and how did you get started in the graffiti game? What crew do you rep and where are you from?
First of all, a big thanks for this interview. My tag name is SIEK27, A tall, brown, in my thirties, skinny average Malaysian guy who're happily living life with my sleepyhead wife and a cheeky daughter. Well, I started acknowledge graffiti when Hip Hop movement is rising up in Malaysia back in 2004 and my first piece is in my own room with basic colour like black, red, blue and green. I pretty much started when I'm just a lil' boy.
PHBKLK (Malaysia) is my first crew when I started my writing life, I'm also reppin' Zincnitecrew (Worldwide) and alongside some of the lit burners brothers from Project Burnerz (Singapore).
What is the dirty hands project?
Hahaha, actually this is a side programme writing activity I wanted to do, but it's just in my wildest dream. I've been thinking to do a video record of one to one painting session with other local writer, but yea it's seems like it's not gonna happen anytime soon.
I just watched your "Akudesign x Temple of Styles" youtube video you have linked in your profile and I'm curious how this project came to be? How do you think this partnership with Strictly Alphabets is going to help the Malaysian graffiti scene for you guys?
Well, this project is just a jamming session between us and with old timer (pioneer) Malaysian graffiti writer. Our main goal is just to show the new comer and junior writer that this old timers are still in the game. We try hard to push all local writers to keep on spraying and play fair with each other. It's good for me to participate in this jamm cause we can meet new writer and build a healthy Graff community. Anyway, all this arrangement is made by strictly alphabets team member especially Asmoe, Nesyr and Wazer. Kudos to them.
When you were honing your skills how important did your black book play into this? Did you ever try to deconstruct the works of others in your blackbook to learn from them?
Blackbook is more of a guide for us to do letter proportioned in appropriate given space cause we tend to get excited and forget everything we plan to do, and of course I do some research and got fascinated with alphabets style that other new artist develop. It's crazy how youngsters can develop such a crazy style nowadays and back then we're struggling to get new idea from other writer from the other countries due to lack of internet exposure and without social media.
I interviewed your crew mate Asmoe recently, he said the public is generally positive towards what it is that you guys do. Can you explain how they react to your work? Do police try to stop you guys or do they not care assuming you aren't doing it on any cultural significant locations?
Yeah, most of them are positive but some other thinks we did vandalism. During our first draw, they will curious what's going on until we fill in the colour and then start asking what we did. From my observation, most people are attracted to character or portrait in the production. They have no idea at first, but they notice it is an art project and there's a character in the making then they start to take selfie. Some people also to the extend buy us drinks and snacks. Every time when we on a new wall, we are risking our ass to be caught by cops. Some writer will just be released by the cops but some other will take our details for their record purposes. Most of the cops think we are a bunch of street punks that going to make a political harassment through our art. So it's quite hard to explain to them unless they are willing to stay until we finish our production. (Which not gonna happen.. haha) We have to show our previous work then they will consider of it or ask us to clear the spot immediately. But we usually don't give a damn and will come back after an hour. We've tried to use Asmoe's babyface once to get clearance to proceed with our activity. (And it's obviously a failed plan, haha)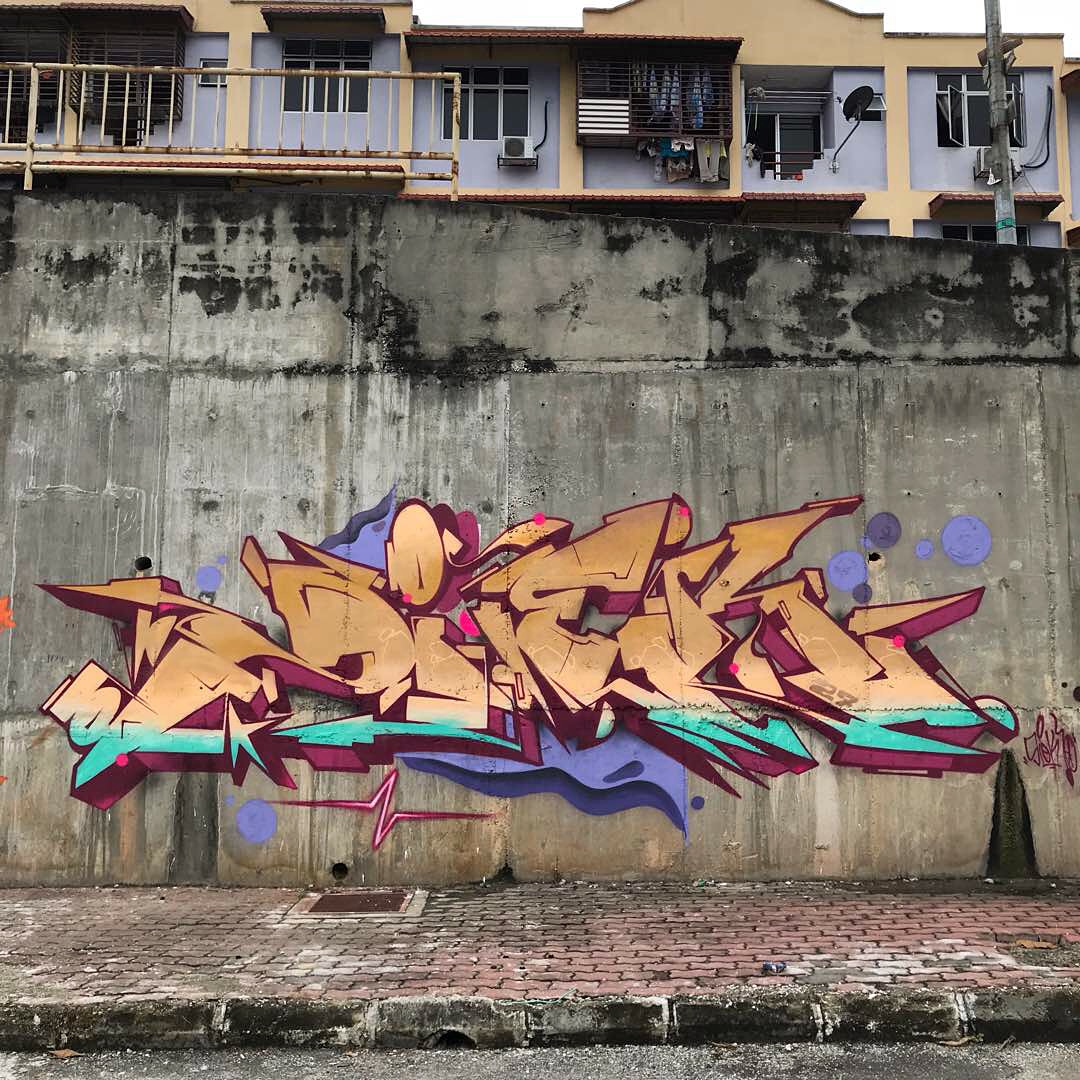 What do you do as a fulltime job? You have a lot of followers have you thought about selling originals to some of your followers?
I'm just a working class hero who is working in a bullshit company with typical arrogant people around and nobody cares and have no idea what is graffiti. It's hard to explain to someone who can't differentiate between graffiti and vandalism.
I don't think I have a lot of followers and I don't sell my artwork to my followers but I do take commission job to gain extra cash. The reason why I don't sell my original is mainly because I'm happy to stay low key. I don't know why I still feel that I am not at the same par with my other crew mates and I always learn to develop new stroke and style for my self-satisfaction. One fine day, I hope I can see myself as a good example of a graffiti artist that youngster can look up too.
What is inspiring you right now? For example what kind of music do you listen to when you paint and when you are looking for inspiration for your next piece are you looking at other graffiti artists or do you try to take your inspiration from everywhere?
I always got inspired by everything around me especially from my supportive wife and daughter. For example I can get colour reference by watching cartoon movie with my daughter or from advertisement and comic. I love to play hip hop music during painting session. Rap and hip hop always give me a spirit in terms of the lyric and beat. Sometimes, it can give you energy to keep on spraying. But I will feel down when Asmoe forced me to listen to mumble rap hahaha. I always try to do better from the last piece, cause I'm never fully satisfied. When I got a new idea of colour combination or a cool theme, it's always pushed me to paint more and more! And my homies also has been a great motivation to always keep doing burners and I'm inspired by a lot of crazy dope writers from Europe.
Is there any kind of letter development exercises you used to do when you were first starting out?
Well, when I first started I don't have any style preference and lack of reference.
I was so shy to express myself and I end up doing my first piece in my room and since then I trained myself to sketch few artworks just to get myself familiar and to develop my sketching skills.
What do you think about the Malaysia's graffiti scene right now compared to what it was like when you started? Have you seen any big changes? Asmoe mentions there is an initiative to get younger kids into the scene through festivals..etc.
Kuala Lumpur is a small sin city with a rapid development and modern infrastructure. New writers nowadays can get any information and reference from the back of their hand. With all the exposure they get, the number of writers are increasing and so does the amount of burner walls, they've got a good quality of style and mad skills. But we're running low on bombers compared with others Asian country like Indonesia. They had crazy mad scene over there! China also lots crazy dope artist. We just cannot see them due their government blocks social media there. I think you guys should checkout them. It's really hard to say, but I hope one day worldwide writers can take us as one of their competitor in this scene. But it's all come down to attitude and knowledge first. Yeah, what Asmoe told it's totally right. It's a sensitive issue. I don't want to talk much about it.
Any shout outs, where can people follow you and see what you're doing next?
Nothing much, but I think here is a good place for me to thank all followers in my Instagram: @siek27 who supported me and always give me a word of encouragement and also to my supportive wife for considering my expensive hobby and passion. Big thanks also to District Shop & Gallery the one and only street graff shop that we have in Kuala Lumpur for always produce good graffiti products. To all my writer gang, keep producing burners and live your passion! Peace out!
Interview by Wesley Edwards