1) Alright so thanks for taking the time out to do this interview, can you give us a brief introduction of how you got to this point? When did you start, what crew do you rep (if any), and what's the story behind "Queenandreaone"? Have you always lived in New York and how do you think this defines you as an artist?
I'm a New Yorker and I was raised in downtown Manhattan NYC, which was so alive with various subcultures throughout the1980's and 1990s. There was a lot of illegal graffiti, skateboarding, hip hop clubs, raves, the punk scene and the first major art galleries in Soho. My parents are creatives, so I had a unique upbringing and I always gravitated to graffiti, hip hop, and design. There was something intriguing about how daring graffiti culture was, and I wanted to be a part of it from a young age. I was obsessed with writing my tag names all over my school notebooks. I ended up meeting prolific old school graffiti artists in my neighborhood and began refining my letters and styles. We would go out and paint various spots, but I was always hesitant to become fully immersed in vandalism, because I wanted to focus on letter styles, piecing and production walls, not just tagging. The crew that I originally repped was AOK (All Out Kings), and some of my friends in that crew were Ket, Reas, Noah, Pure, Ghost, Wane, Wen, Sento, and Mickey. I met and admired other important graffiti artists like Lady Pink, Smith and Lee. My early days getting involved with graffiti culture was the most fun time of my life!
As a female graffiti artist, things were more complicated since I was usually hanging out with groups of males and there were so few fellow girls within the graffiti culture. I was able to maintain great platonic friendships with most of the guys in my life and I was so obsessed with lettering and urban styles, that I just pushed forward no matter how unusual it was for me to be in a male-dominated field.
Being a New Yorker has always defined me as an artist and it contributed so much to my early development. NYC is a huge and complex city, so as a young teen you have to find your place, be smart and know your sh*t. There's a lot of competition in NYC, but you can learn from the best of the best. I was running around writing graffiti, going to raves and parties, and getting involved with design, clothing, and branding so it was a really exciting time. Back then there was obviously no social media, which meant that things evolved more naturally, you had to show and prove out in the streets since nothing was happening on screens or in virtual reality. I still love the simplicity and authenticity of those days, but social media brought communication and sharing of our graffiti and hip hop culture to the worldwide masses. That's both good and bad though since social media has saturated the scene with mediocre art, but also with some really dope content! My Instagram account @queenandreaone is where I show all of my new work.
2) I see you offer many different services for your clients and fans, people can buy limited edition prints, but you also offer murals and brand design, which makes me think that you probably went to school for graphic design. What was your educational background, and how did you get started doing these awesome typography murals? Do you remember the moment when it clicked and you said " I can do this for a living?!?", tell us about your defining moment as an artist.
I wanted to go to college to have a future as a working creative, so I got accepted to Parsons School of Design and earned a BFA in graphic design. In school, I learned so much about commercial design fields like advertising and logo design, so I started working immediately in my early 20s as a designer. Eventually, though, my true passions of lettering and graffiti returned to the forefront of my life and I began to incorporate urban illustration into much of my commercial work. I was blending urban art with graphic design since the early 2000s. Around that time I started to get invited to walls and jams to paint graffiti pieces and to partake in special productions and exhibitions. I painted at the Graffiti Hall of Fame in 2003 on a wall that Lady Pink organized and was invited to be featured in collaborations with various brands. Starting in 2006, I was working as an Art Director at Mass Appeal magazine and later XXL magazine, which was perfect for me given my early experience in urban art and culture.
Back in the streets, after painting my name over and over again, I really wanted to expand and move on to something new, so I began painting large scale hip hop lyric murals and other phrases. This allowed me to paint new letters and combinations of letters, which was exciting and represented new challenges and a way to get better at letters. I've always been so obsessed with letter styles, so my typography murals are the perfect outlet for me. Later, I realized that these murals became popular with people because the phrases could be aspirational and uplifting, and were already so public on the streets. The theme of typography murals has become trendy nowadays, but I was painting these murals along with other artists around the world before it became so popular and eventually exploited by mainstream companies. Some of my favorite phrases I've painted are "The World is Yours, " "Hello Beautiful," "Believe," "Hustle Hard," "Because I Choose to Use My Infinite Potential" and "Wild for the Night." I love seeing these phrases on the streets!!
3)  What is your favorite documentary or book that covers the history of major players of graffiti and why? 
StyleWars and Subway Art are my top two! I literally studied Subway Art as a teenager, practicing my letters and deciphering the different graffiti styles that were rolling through NYC. As an adult, I've been lucky to have worked with one of Subway Art's authors Martha Cooper on a few projects. She and Henry Chalfant captured moments in subway graffiti history that are truly unique and might not have been properly documented without them snapping flicks! 
One of my best friends, the writer Alan Ket, was compiling his own photo albums of graffiti flicks in the 1980s and 1990s and he would show me different crews' styles and flicks of important pieces and tags. That was a great way for me to learn about styles, right from the source, the actual flicks taken by writers. There were amazing graffiti magazines back in the 1990s that I would collect to see what was popping globally, since at that point graffiti and hip hop was happening worldwide, not just in New York City.
4) When I look at your page I feel like its sensory overload with the amount of vibrant beautiful color that you have on display! I really enjoy looking at your work and how you make everything on your Instagram and website page feel cohesive. 
Since you have a background in branding how did this change your approach to marketing yourself as an independent artist and how much do you think it lent itself to your success? 
Are there any branding tips you can share with artists that are looking to stand out from the crowd?
I use a lot of color in my work because it's exciting and can invoke so much feeling and emotion. Colors and words have power, and that's always been my focus since my days as a graffiti artist. Developing my skills in typography was really an evolution from my early focus on tags, pieces and developing good letter styles.
I don't always present my work in such a calculated way or follow a marketing plan, I like to flow naturally and to show people what I'm working on at the moment. I've been lucky to have painted some huge and complex mural commissions earlier in my career and have continued developing my style, so what people see me presenting on social media is the evolution of my career and projects.
I'm actually not that great at marketing myself! Haha. Right now I'm working on opening my own online shop to sell my own art and products and to promote my brand. With branding, it's important to stick to one style and refine that enough so that you're en expert with it. "Don't be good, be great" is a phrase that comes to mind, young designers should focus on being the best at what they do, and not compare themselves to others! To stand out from the crowd, it's best to take risks and to accomplish big projects, even if they're self-funded in the beginning, so you can show how dedicated you are to your particular skill set.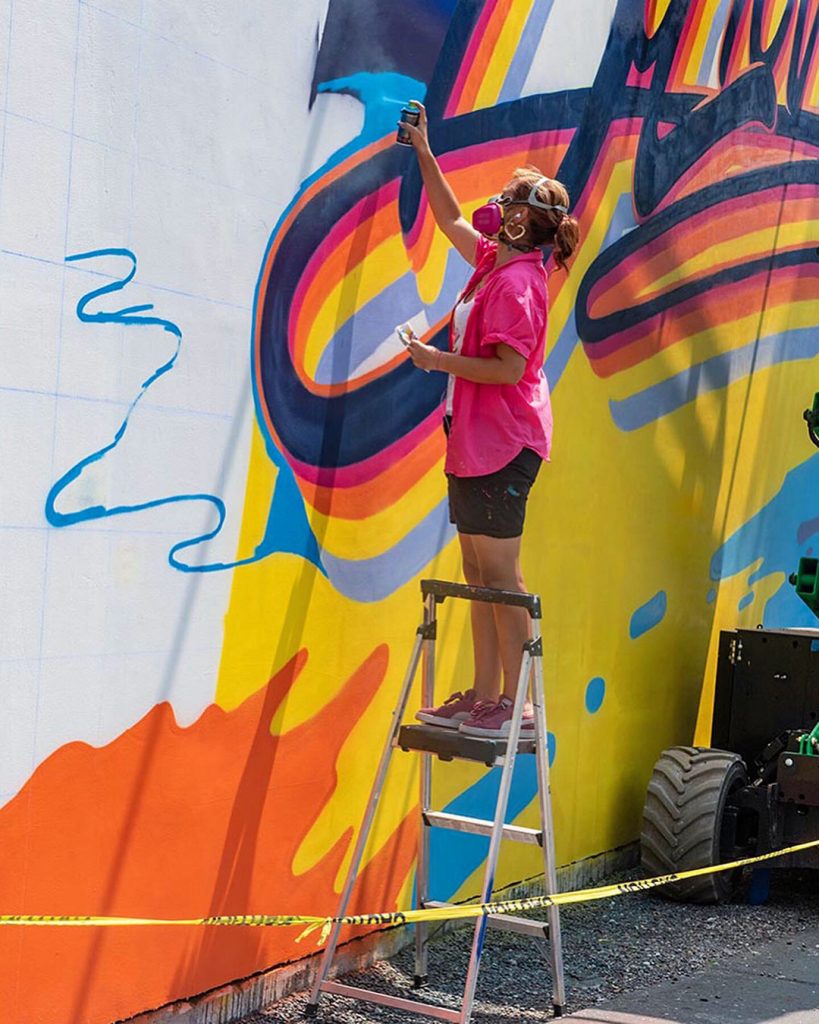 5) You recently posted about a mural you did for @Citi and @glblctzn festival in Central Park. Can you tell us a little about what this graffiti festival was about and why you decided to do it?
 Also, you mentioned seeing Pharrell and Alicia Keys perform at this event and I'm curious if you had the opportunity to meet either of these legends?  
My mural commission for Global Citizen was curated by Goldman Global Arts, who also curate the Wynwood Walls in Miami. Since I was invited to be a Wynwood Walls artist in 2018, I continued working with GGA on other commissions. Global Citizen was familiar with my work already, and since they were searching for an artist to collaborate with for their big concert in Central Park in September 2018, they chose me through GGA and I designed about 8 mural wall installations throughout the VIP areas and the main concert grounds. The murals I designed were actually just printed vinyl wraps, so there was no hand painting and the production time was pretty quick.
I knew that Global Citizen had a great message of sustainability, which was my favorite aspect of the collaboration. My typography art included inventive lettering such as "Power the Movement," "Sustainability" and "Zero Hunger". I had VIP access and watched so many big performers in the front row, but unfortunately didn't get a chance to meet any artists!

6) What kind of music do you listen to when you paint? Who is your favorite hip hop artist and why?
I've been a hip hop head since my teens, so there's always a heavy rotation of hip hop. I used to listen to old school rap and funk music, but I also love the sounds and styles of newer artists like Drake, Migos, Meek Mill, Cardi B and more… The hip hop of the 1990s is becoming the old school now, 1980's even older! So I keep up with it all. In 2020, the production and sound of current hip hop has really evolved and while I don't always enjoy new lyrics because of the lack of simple storytelling and emphasis on drugs, guns and the fast life, I love to keep up on all the new hip hop bangers.
Heavy on rotation in my studio is also relaxing music like jazz and Mozart. My favorite hip hop artists are probably JayZ, Drake, and Nas, but I'm such a hip hop head, it's hard to say!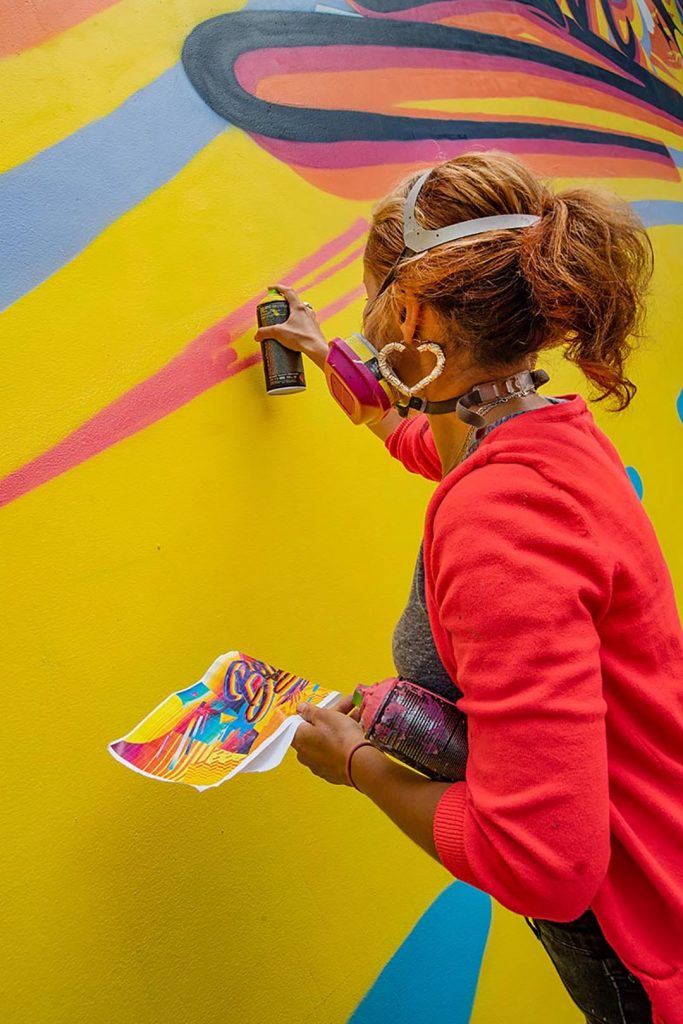 7) For those out there that are hungry to improve at their craft but don't know how to exactly what do you recommend? Is there any specific practice or exercise that you have discovered that has helped you over the years at improving your design and sense of color?
It's all about how much-focused work you put in. To improve and refine your craft takes time and effort, you have to be dedicated and be "about that life." There are a lot of shortcuts these days such as digital tablets like Procreate, but I think it's important to emphasize real old school drawing and the fundamentals of color theory and illustration. It's best to stick to the basics to become a better artist, and then branch off into the current digital trends in art and design. Using too many tricks and shortcuts don't really allow an artist to fully develop. Plus, I think it's tacky to jump on the bandwagon and make it look like you have more experience when you're either using shortcuts or copying other artists. For me, integrity is important. Keep your sh*t tight by being the best you can be through real experience And try to meet or study artists who you look up to, so you can learn from their hustle.
8) What is the message that you hope people will get from seeing your work? Where do you see yourself 5 years from now?
I hope that my work is inspiring and uplifting, that's always my goal. Expressing a unique style is the way I communicate visually. I have a lot of typography messages and phrases that I want to express in elaborate ways, to bring light to the power of those themes. One of my favorite murals, my "BELIEVE" wall at Houston & Bowery in Manhattan, is a perfect example of how I want my art to be received and to develop For that mural, I chose a phrase that I felt was relevant to current events, but would inspire people to feel empowered and even joyous. The bright colors and the messages "Believe" and "Love More" are reminders to live your life with more understanding of how powerful your beliefs are, and to believe in good things, and especially to believe in yourself! That mural was a blend of both urban graffiti style and contemporary design, so it had a broad audience.
In 5 years from now, I want to have my own brand and style be more developed and have a bigger team that I trust, so I can accomplish bigger projects. I'm currently getting into animation and working on 3D sculptural works, which is new and exciting for me! I always have paintings happening in my studio, and of course, large scale murals are one of my biggest passions.
9) when you were coming up who inspired you and taught you the ropes and who inspires you now? Who are the artists that are inspiring you now?
When I was a teen growing up in NYC, I was inspired by the prolific graffiti artists that I became friends with, but I also visited museums like the Metropolitan, the MoMA and just walked around the streets getting to know all the diverse neighborhoods around the city. I immersed myself in art and design, bought books and magazines, studied typography, I was super hungry to learn my craft. Living in NYC inspires me every day. It's such a melting pot of trends and real culture, real life. Fast forward to 2020 and some of my biggest inspirations are still Kaws, Reas, Alan Ket, Lady Pink, Haze, Doze Green, Espo, Wynwood Walls, the Pop Art movement and exhibitions like Beyond the Streets

10) Any shout outs you would like to give? where can people follow you?
Huge shout out to Bombing Science!
People can find me on Instagram at @queenandreaone
Big Ups to all my friends in AOK crew, Wynwood Walls, Cash RFC and to my hometown NYC!